LONDON-BERLIN-NEW YORK
LONDON & NEW YORK EVENTS SOLD OUT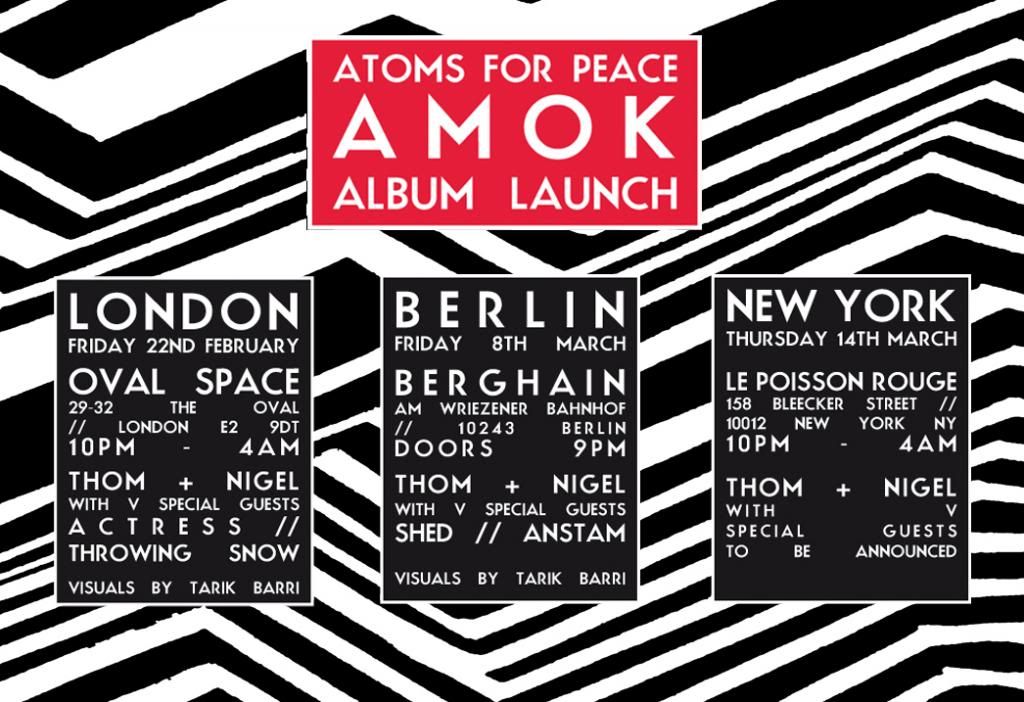 To mark the release of the debut album 'Amok', Atoms For Peace will throw a series of special launch events over the coming weeks. The nights will take place in London (Oval Space, 22nd February), Berlin (Berghain, 8th March) and New York (Le Poisson Rouge, 14th March).
Each event will feature a performance from Thom Yorke and Nigel Godrich, lightheartedly described by Thom as "two turntables & a microphone" on Twitter earlier this week. The nights will also feature full line ups of very special guests.
NEW YORK & LONDON have already SOLD OUT. Berlin tickets are on sale right now, with full details below.
Amok' is released on 26th February in the U.S. on XL Recordings. An exclusive interview with Thom Yorke, Nigel Godrich and Joey Waronker can be heard at http://www.npr.org/blogs/allsongs/2013/01/29/170581164/listen-thom-yorke-and-friends-talk-atoms-for-peace
FRIDAY 22ND FEBRUARY: LONDON–SOLD OUT
Oval Space, 29-32 The Oval, London E2 9DT
10pm-4am
with very special guests ACTRESS and THROWING SNOW
visuals by TARIK BARRI
http://www.ticketweb.co.uk/event/phl2202
http://www.seetickets.com/event/atoms-for-peace/oval-space/693863/
FRIDAY 8TH MARCH: BERLIN
Berghain, Am Wriezener Bahnhof//10243 Berlin
From 9pm
with very special guests SHED and ANSTAM
visuals by TARIK BARRI
http://www.meltbooking.com/atomsforpeace
THURSDAY 14TH MARCH: NEW YORK–SOLD OUT
Le Poisson Rouge, 158 Bleecker Street//10012 NY NY
with very special guests – announcement to follow
10pm-4pm
http://www.lepoissonrouge.com/lpr_events/atoms-for-peace-dj-set-march-14th-2013