OUT JUNE 25 ON SARGENT HOUSE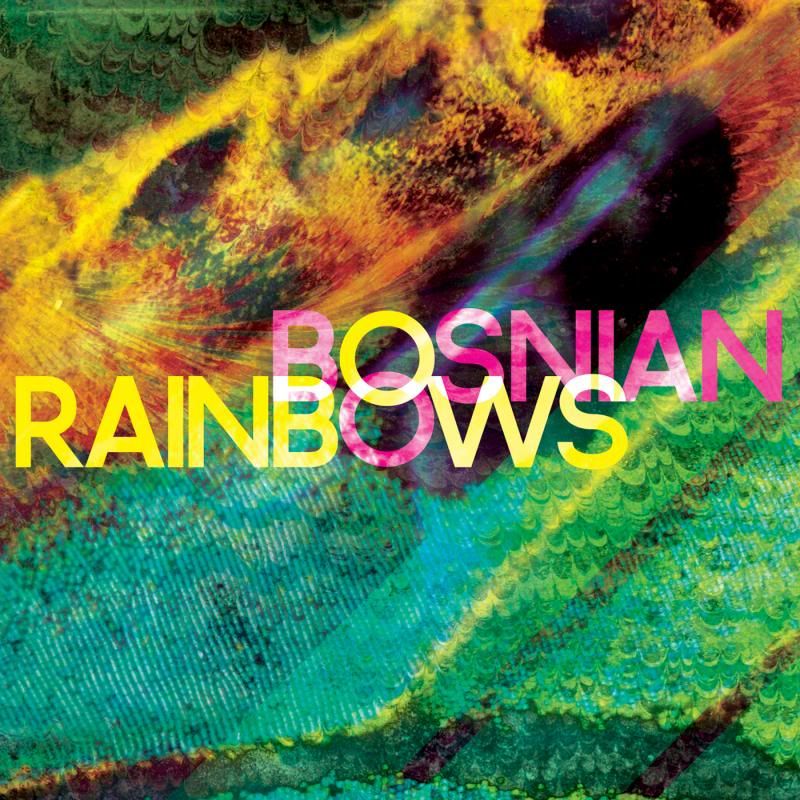 "'Turtle Neck' shimmers with wavy, lush guitars and unhurried percussion before shifting to sprawling textures and morphing tempos. It cuts loose in the second half, turning into a spacey post-hardcore assault of jagged chords and gut-punching drums."–ROLLING STONE
"Bosnian Rainbows is certainly more democratic, but the group's music crackles with just as much unpredictable intensity… At its rhythmic heart are drummer Deantoni Parks and keyboardist Nikki Kasper… Teri Gender Bender harnesses a wide-ranging energy with her style and delivery that recalls Kate Bush, Damo Suzuki and even a young Geddy Lee… It's a lineup that only a creative intellect as feverish as Rodriguez-Lopez could hope to wrangle… primed for mind-bending twists galore."–TIME OUT NEW YORK
Teri Gender Bender, Nicci Kasper, Deantoni Parks and Omar Rodriguez-Lopez, known collectively as BOSNIAN RAINBOWS, will release their self-titled debut album June 25 on Sargent House.
The album will feature the previously unveiled tracks "Torn Maps" and "Turtle Neck"–which can be heard at:
https://soundcloud.com/sargent-house/bosnian-rainbows-torn-maps
https://soundcloud.com/sargent-house/bosnian-rainbows-turtle-neck
… as well as nine other original Bosnian Rainbows compositions.The complete track listing is:
1.    Eli
2.    Worthless
3.    Dig Right In Me
4.    The Eye Fell In Love
5.    Cry For You
6.    Morning Sickness
7.    Torn Maps
8.    Turtle Neck
9.    Always On The Run
10.  Red
11.  Mother, Father, Set Us Free
Many if not all of the above will be familiar to those who caught the band on its recent run of U.S. headline dates, shows that generated raves including:
"While Rodriguez-Lopez may be happy to describe the act as 'a four piece, very stripped down affair,' the combination of his energetic, frenzied playing style coupled with Teri Gender Bender's ferocious stage presence is nothing short of electrifying."–METROMIX
"a hard-rocking group of vets ripping through songs while sounding as fresh as a gleaming spectrum of color over the bleak streets of Sarajevo."–CHICAGO INNERVIEW
"Rodriguez-Lopez's uncanny ability to mutate his flailing notes into luscious symphonies coupled with front-lady Teri Gender Bender's 'unique' stage presence gives Bosnian Rainbows a certain grace on the front lines of the battle for the preservation of today's music."–LISTEN ASHEVILLE
Bosnian Rainbows have just returned from their March 15 appearance at the Festival Vive Latino at Mexico City's Foro Sol Stadium and one show supporting with Yeah Yeah Yeahs in Guadalajara–with whom they'll meet up again in May for shows in Berlin and Paris. Other confirmed U.S. engagements at present are May 25 at the Neon Desert Festival in El Paso, TX, to be accompanied by a few yet to be announced Texas club dates. Bosnian Rainbows have been on the road consistently since August 2012, touring extensively in Europe, Russia, Australia, New Zealand, Japan and on the west coast, making a U.S. festival debut at last September's Fun Fun Fun Fest, and more recently completing the aforementioned February headline tour.
Further live dates will be announced as they are confirmed.
BOSNIAN RAINBOWS
Live 2013
05/06/13 – Berlin, Germany – Columbiahalle *
05/08/13 – Paris, FR – Olympia *
05/25/13 – El Paso, TX – Cleveland Square Park
* w/ Yeah Yeah Yeahs