OUT AUGUST 6 ON TEMPORARY RESIDENCE LTD
PRINCE AVALANCHE IN THEATERS, AVAILABLE VIA iTUNES, ONDEMAND EVERYWHERE AUGUST 9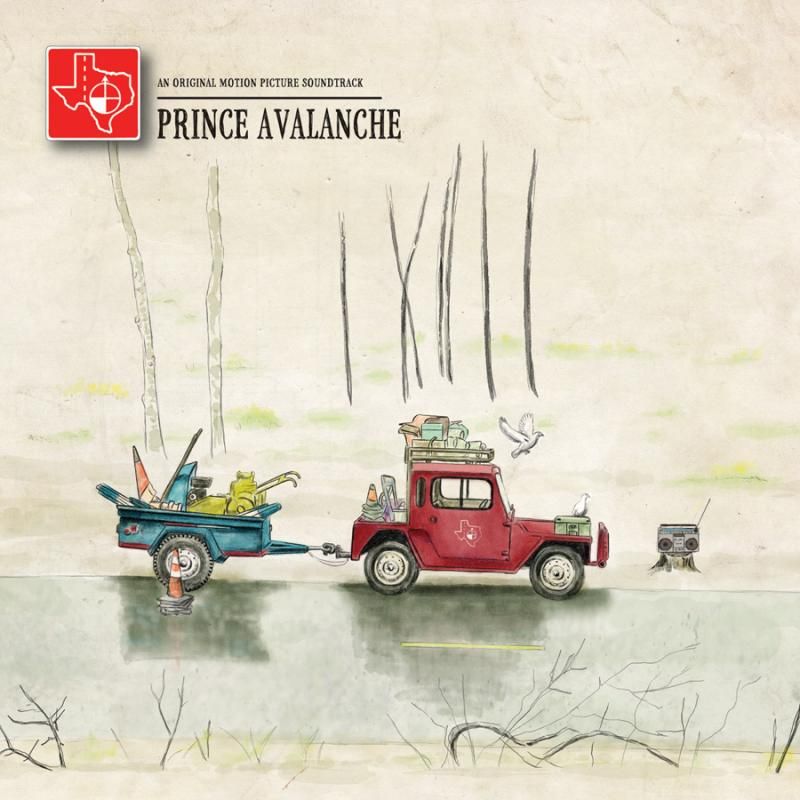 Hailed by everyone from The New Yorker and Rolling Stone to Judd Apatow to their hundreds of thousands of fans for the cinematic scale and sweep of its instrumental epics, Explosions In The Sky & David Wingo release their original score to the feature film Prince Avalanche August 6 on Temporary Residence Ltd.
Explosions In The Sky first came into contact with Prince Avalanche writer-director and fellow Texan David Gordon Green (Pineapple Express, Snow Angels) approached them a decade ago for permission to use a song for his sophomore film All The Real Girls. The result was both Explosions In The Sky's first-ever film license and the ideal complement to the film's elegiac score by Texas compose David Wingo.
Many years later, Explosions In The Sky & David Wingo's collaborative Prince Avalanche is as enthralling as it is intimate. Recorded entirely at the homes of its composers, Prince Avalanche, the record, is the perfect aural accompaniment to the darkly comic, sparely staged yet emotionally complex Beckett-ian tale featuring Paul Rudd and Emile Hirsch as two workers on an isolated stretch of Texas road–shot against the backdrop of Texas' scorched Bastrop State Park, a location suggested to Green by Explosions In The Sky's Chris Hrasky.
Hrasky, Michael James, Munaf Rayani, Mark Smith a/k/a Explosions In The Sky are no strangers to the crossroads of music and cinema. Figuratively and literally: Shortly after first crossing the 100,000+ sales mark with its 2003 album The Earth Is Not A Cold Dead Place, the band would wind up scoring the 2004 Universal feature Friday Night Lights, and naturally continued the relationship, lending its music to the much loved TV series spun off from the movie. Since then, Explosions In The Sky's music has been featured in the likes of Academy Award nominee The Diving Bell and The Butterfly, while the band commissioned three short films scored by tracks from its 2011 album Take Care, Take Care, Take Care: the vintage Polaroid love letter to a lost era "Postcard From 1952," the touching romantic monster fable "Be Comfortable, Creature" and the animated sci-fi fantasy trip "Last Known Surroundings."
Explosions In The Sky will soon be taking its live show–described by The New Yorker as "one of the most ecstatic displays of loud rock I've ever seen"–on a limited run of summer dates in Brazil, Portugal and Canada. The shows conclude with an August 3 appearance at the Osheaga Festival in Montreal, just days before the August 9 release of Prince Avalanche.
The complete track listing to Explosions In The Sky & David Wingo's original motion picture soundtrack to Prince Avalanche is as follows:
1. Fires
2. Theme From Prince Avalanche
3. Dear Madison
4. Passing Time
5. Rain
6. Alone Time
7. Hello, Is This Your House?
8. Can't We Just Listen To The Silence
9. Wading
10. Dear Alvin
11. The Lines On The Road That Lead You Back Home
12. An Old Peasant Like Me
13. Join Me On My Avalanche
14. The Adventures Of Alvin and Lance
15. Send Off