PAUL McCARTNEY
"FUH YOU"
NEW SINGLE OUT NOW
EGYPT STATION OUT SEPTEMBER 7 ON CAPITOL RECORDS
Carpool Karaoke: When Corden Met McCartney Live From Liverpool 
Hour-Long Primetime Special to Air Monday, August 20 at 8pm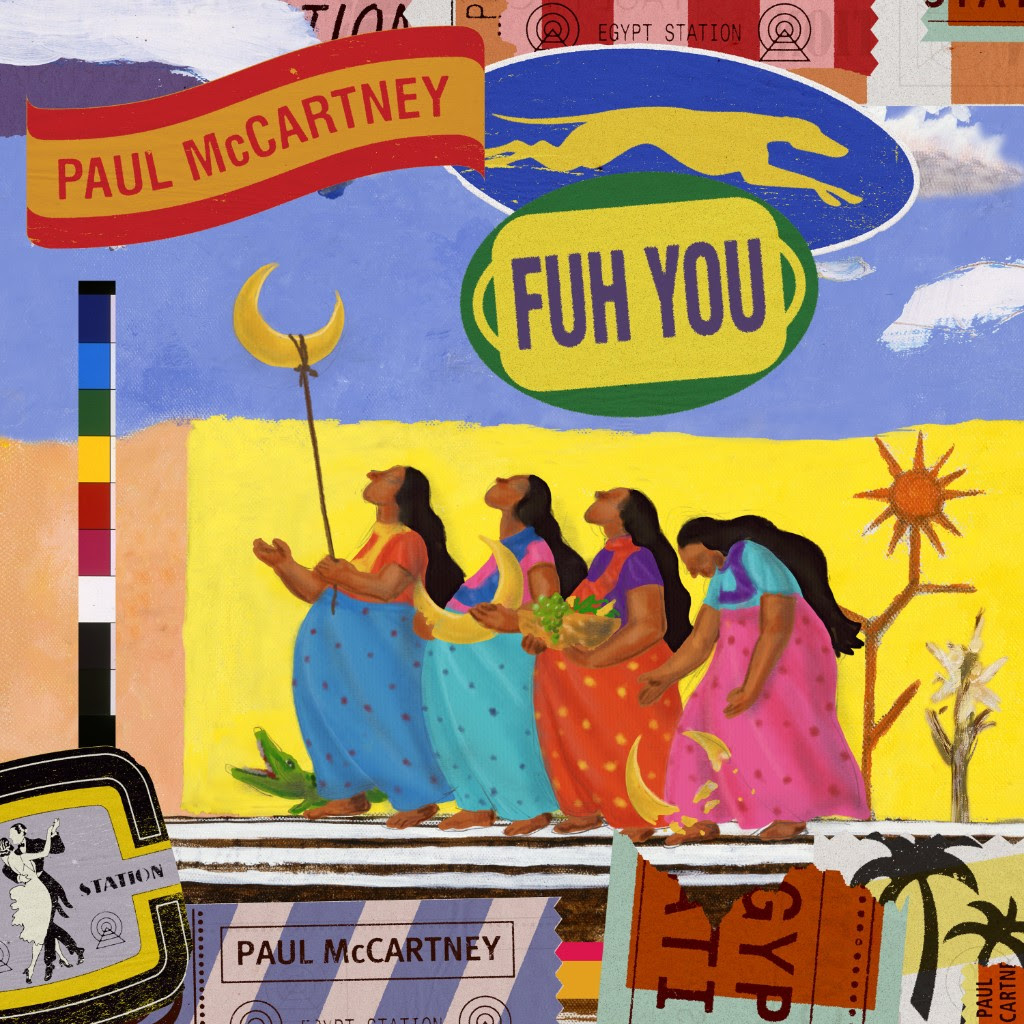 Paul McCartney has announced the next stop on the journey to Egypt Station: "Fuh You," the newest single from the forthcoming record is now available on all digital/streaming platforms.
Egypt Station's estimated time of arrival is September 7, 2018 by way of Capitol Records.
Sharing a title with one of Paul's own paintings, Egypt Station is the first full album of all-new McCartney music since 2013's international chart-topping NEW. Preceded by two of its tracks just released as double A-sides–plaintive ballad  "I Don't Know" and raucous stomper  "Come On To Me"—Egypt Station was recorded between Los Angeles, London and Sussex, and produced by Greg Kurstin (Adele, Beck, Foo Fighters)—with the exception of the newly available "Fuh You," which was produced by Ryan Tedder.
Paul recalls the process behind the new single: "With this one I was in the studio with Ryan Tedder whereas the rest of the album has been made with Greg Kurstin… We were just thinking of ideas and little pieces of melody and chords and the song just came together bit by bit. And then I would try and make some kind of sense of the story. So it was like 'Come on baby now. Talk about yourself. Tell the truth, let me get to know you' and basically I wanna know how you feel, you make me wanna go out and steal. I just want it for you. So that was the basic idea and it developed from there… sort of a love song, but a raunchy love song. There you go – fuh you."
Of Egypt Station's enigmatic title, Paul says, "I liked the words 'Egypt Station.' It reminded me of the 'album' albums we used to make… Egypt Station starts off at the station on the first song and then each song is like a different station. So it gave us some idea to base all the songs around that. I think of it as a dream location that the music emanates from."
The complete track listing for Egypt Station is:
Opening Station
I Don't Know
Come On To Me
Happy With You
Who Cares
Fuh You
Confidante
People Want Peace
Hand In Hand
Dominoes
Back In Brazil
Do It Now
Caesar Rock
Despite Repeated Warnings
Station II
Hunt You Down/Naked/C-Link
And don't forget to tune in to CBS 8pm Monday, August 20 for Carpool Karaoke: When Corden Met McCartney Live From Liverpool. The hour-long primetime special will feature never-before-seen footage from the wildly popular "Paul McCartney Carpool Karaoke" segment which aired on The Late Late Show with James Corden on June 21, 2018, and has since been viewed nearly 130 million times across Facebook and YouTube.
Listen to "Fuh You" HERE and check out the brand new lyric video HERE.
PRE-ORDER Egypt Station HERE, available in the following formats:
– Limited Edition heavyweight Concertina vinyl package
– Limited Edition Concertina CD package
– Digital album
– Super Deluxe Limited Edition hand numbered box set package featuring bonus tracks coming soon.
Stay tuned for more information:
PaulMcCartney.com